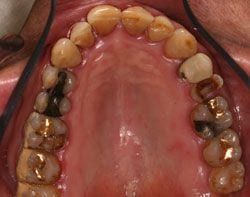 If you suffer from a variety of significant and complex restorative and cosmetic dental issues, West Palm Beach dentist Dr. Sam Sadati may recommend full mouth rehabilitation.
Full mouth rehabilitation improves the dental, skeletal and muscular function of your mouth. It is a comprehensive restoration process whereby multiple teeth in the front and the back of your mouth are restored. Through this procedure, our South Florida dental expert can replace missing teeth, establish a correct bite, protect teeth from improper wear, prevent TMJ Disorder- just to name a few of the many possible positive outcomes.
No other Florida Dental Practice is better positioned to provide you with such comprehensive care. The modern techniques and spa-like atmosphere of The Sadati Center for Aesthetic Dentistry offers our esteemed guests an anxiety-free opportunity to completely restore their mouth and enjoy the smile they've always wanted.